(Updated January 16, 2021)
Las Vegas became the site, the focus, the backdrop for several 1940 movies that nicely fit into the "Film Noir" classification.
A list of ten Las Vegas Film Noir  was originally published in the August 2015 issue of Nevada Public Radio's magazine,  Desert Companion. 
Research on the movies continues to this day.
An expanded version of the article with new details and images is presented below.
Work continues and details will continually be added to this report.   In addition, a separate article on Las Vegas movies of the 1940's, as well as individual articles on each film will be produced as separate reports.
Whether exploring gambling addiction or plumbing the minds of sadistic killers, the best Las Vegas noir films reveal a decidedly different side of Las Vegas than found in the song and dances in the movies Meet Me in Las Vegas or Viva Las Vegas.
The image-makers of Glitter Gultch in the 1940's were not eager to see Las Vegas depicted in the dark of film noir.
Those noir stories of Las Vegas that made it to the silver screen show a  fragile structure where men and women are holding up signs with a price for their souls.
In the 1940s Hollywood became fascinated with the extreme behaviors f Las Vegas is able to squeeze out of people.
And, a few films on this list of top ten may make a film noir expert cringe, others are among the genres darkest.  In each case, the movies preserve a visual record of neon noir in the desert.
Johnny Cool, 1963 – United Artists, 103 minutes
In the 1950s, film studios came to Las Vegas and most left with glorified song and dance routines, Johnny Cool would be the first Vegas movie in more than a decade to put a noir edge with a capital N to the town.
The plot of this film is simple enough: Johnny Cool, played by Henry Silva, is sent to the United States by an exiled gangster living in Italy. Johnny Cool's mission: a bloody vendetta against the men who forced his boss out of the country.  Along the way, Cool picks up Darien "Dare" Guinness (a pre-Bewitched Elizabeth Montgomery), a divorcée, played with a bit of a Hollywood version of a hippie, who may have had a tab or two of Purple Haze.
The film succeeds artistically with the use of stark contrast black and white imagery. And it's a historic gem as well. From images of the Las Vegas Strip to Fremont Street to inside the casinos, Johnny Cool provides viewers with a snapshot of what the town looked like in the early 1960s.
And there is a residue of the Rat Pack's earlier Las Vegas movie, Ocean's Eleven.  With Silva, Sammy Davis Jr, Joey Bishop, Hank Henry, and the films Executive Producer, Peter Lawford, there is clearly a residue of the Rat Pack's earlier Las Vegas Movie, Ocean's 11.
But what really sets Johnny Cool apart is scripted death march and the dark image it portrays of the those who controls Las Vegas. (Mort Sahl's character being the exception.)
In Cold Blood, 1968- Columbia, 134 minutes
Based on Truman Capote's nonfiction novel about the November 15, 1959 murders of a Kansas family, In Cold Blood is a noir in which artful flashbacks add grim shadows to an already dark story about these infamously brutal homicides.
Six weeks after the murders in Kansas, the killers were arrested in Las Vegas. (Another Nevada connection: One of the killers was born near Elko, and lived in Reno as well as in Las Vegas.) This film takes advantage of that and captures some wonderful images of the city: The police follow the murderers on the Strip, to the Union Pacific Depot and finally to Fremont Street. It also features shots of the old city police department, from the jail cells to the interrogation room. And, if you look closely, you'll find former Clark County Commissioner Darwin Lamb in several scenes. Lamb, who appeared in several Las Vegas films, plays one of the officers who arrested the two men.
Highway Dragnet, 1954- Allied Artists, 70 minutes
Highway Dragnet opens with a down-and-out former fashion model who's seen better days — at least according to Richard Conte's character, Jim Henry. Just out of the Marines, Conte's character is on his way to California. He stops first in Las Vegas to meet a fellow Marine staying at the Sunset Hotel. Henry insults the blonde, they fight, kiss and make up. After partying with his Marine pal until dawn, Conte hitchhikes his way out of town. Back in Las Vegas, the blonde is found murdered. Las Vegas police Lieutenant Joe White Eagle puts out an all-points bulletin for Conte. Confronted by the police, Conte flees — and the noir escape thriller action is on.
Famed B-movie producer Roger Corman's first film, Highway Dragnet was hyped to be about a "THREE-STATE ALARM FOR a THRILL-KILLER along the Roaring Crime Route from Las Vegas!" Overheated teaser aside, it has some fine Las Vegas footage, including opening with a nighttime shot of Las Vegas looking west from Second and Fremont, with the Golden Nugget on the left and the Hotel Apache on the right.
Invisible Wall, 1947 –20th Century Fox, 72 minutes
A week after being discharged from the army, Harry Lane, a World War II veteran, played by Don Castle, goes back to his old job making payoffs for a Los Angeles bookmaker.
His first assignment: Take $20,000 to a winner at the Flamingo in Las Vegas.
Too bad Harry Lane has a gambling problem. By the end of the film, Lane is connected to two homicides and in love with the wife of one of the dead men.
Yes, his love in the move is Mildred Elsworth played by Virginia Christine who many of us would remember in a different role on television.
What makes this film especially interesting is it was filmed at the Flamingo while Bugsy Siegel was alive, at least part of time.
Siegel knew Sol M. Wurtzel from from Hollywood, and agreed to let him film at the Flamingo, which was the working title of the movie.    Wurtzel  finished the on-location shooting May 27, 1947.  Six weeks later, Siegel was killed.
The title Flamingo was changed to the Invisible Wall, but resort did get a couple of plugs in the script.
In the opening scene, after getting an assignment to deliver money to a bettor, Lane asked  "Where is it going?"  His bookie boss says, "Las Vegas, the Flamingo" Lane asked, "Flamingo? What is that a new joint?" The bookie says, "New and classy and no joint" adding "Now at the Flamingo you can do anything you want. but if you do any gambling, use your own money"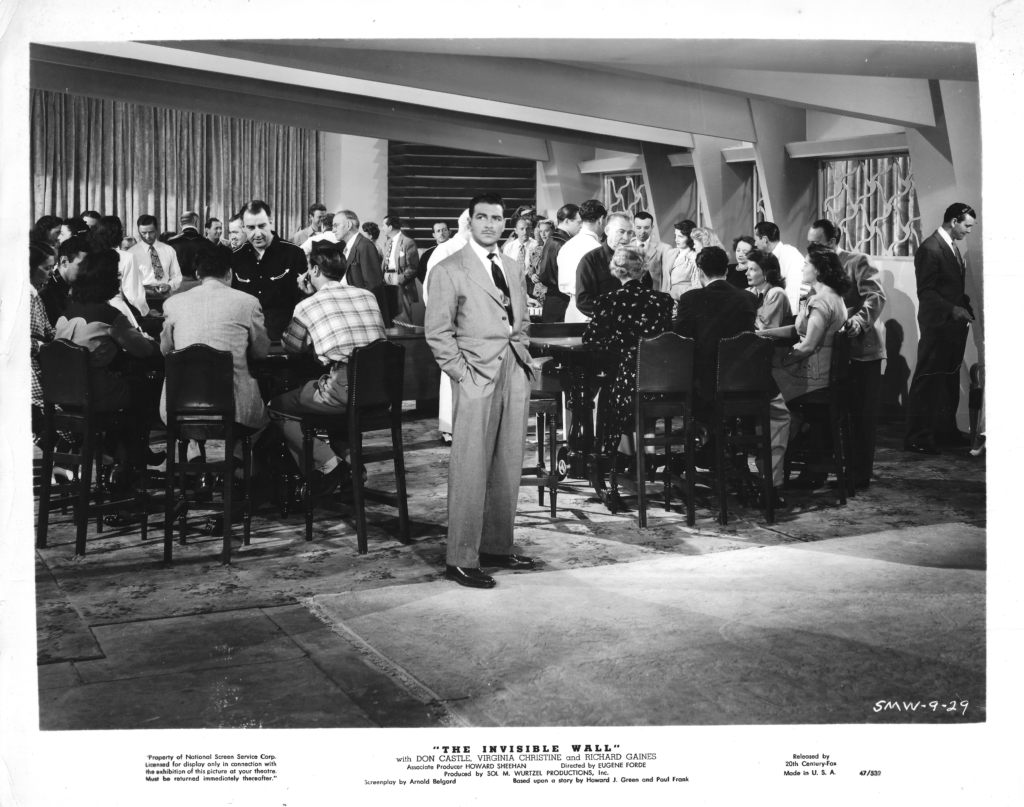 The film is filled with interior and exterior shots of the Flamingo, as well as Las Vegas. At one point, our hero tries to stay away from the gambling tables by going horseback riding in the nearby desert.
Another bonus: Well-respected Las Vegas gaming executive Carl Cohen makes an appearance. Cohen at one time owned part of the Sands Hotel, before it was sold to Howard Hughes. He became famous as the guy who punched Frank Sinatra in the nose, knocking off the caps on his front teeth.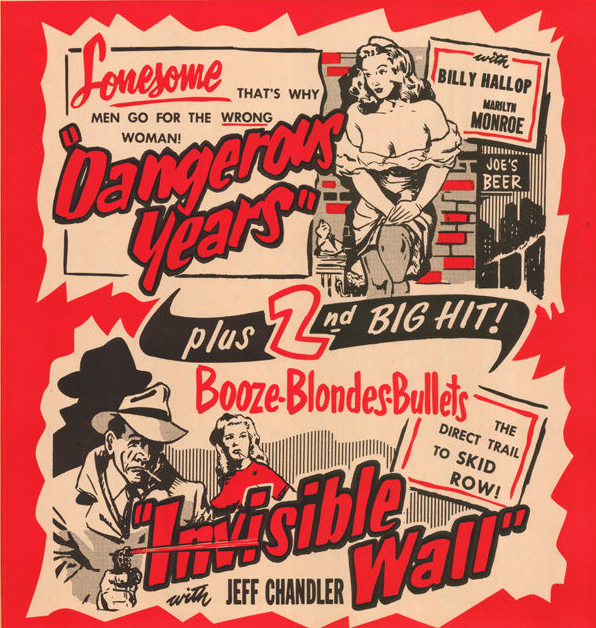 There are two other notes that may make this 72 minute movie, marketed as the second half of a double feature, worth your while.   Jeff Chandler would become one of the two major stars seen in this film.  The movie is the first where he received credit.   In his first uncredited movie role a year earlier, Chandler had one line of dialogue.  In Invisible Wall Chandler plays the right hand man to a bookie, and is always angry.
The other note, if you like your coffee noir, you might reminder Virginia Christine  played the motherly Mrs. Olson in Folger's coffee television commercials for more than two decades.
And while the Invisible Wall might not be at the top of her favorite roles, Christine appeared in more than 400 movie and television programs including  "Guess Who's Coming to Dinner," "Cyrano de Bergerac," "High Noon," "Judgment at Nuremberg" and "Invasion of the Body Snatchers."
A  grade of C+  for a double feature film noir at best, HOWEVER, the Invisible Wall has many historically redeeming qualities, including its visual and Siegel connections to Las Vegas.
Las Vegas Shakedown, 1955 – Allied Artists, 79 minutes
The noir-tinged Las Vegas Shakedown stars Dennis O'Keefe as Joe Barnes, who runs "a clean operation" in his casino. Thomas Gomez plays Al "Gimpy" Sirago, who plans to kill Barnes out of revenge — Barnes sent him to prison with his testimony. Now free, Sirago and a couple of his hoods arrive in Las Vegas with plans to take over the resort and murder Barnes. Elements of the story are loosely based on real-life Bill Moore, one of the owners of the Last Frontier. Moore testified before the Kefauver hearings, providing the Senate subcommittee with the financial dealings of his casino operations.
One of the highlights of the 1955 Las Vegas Shakedown is the visual record of Las Vegas. Images of the original Mirage Motel with the above-ground pool with windows, the Thunderbird Downs race track, the Union Pacific rail yards near Charleston Boulevard, and the interior and exterior images of the Hotel El Rancho Vegas are well-preserved for posterity.
The Las Vegas Story, 1952 -Howard Hughes' RKO, 88 minutes
Howard Hughes, who owned the RKO Studios at the time this movie was filmed, had since the early 1940's spent a lot of time in the new resorts of Las Vegas as well as flying and crashing airplanes at Lake Mead.  He also bought land and had a home it what would become known as the 'Green House." The two bedroom home, still standing, is located just off the strip and Desert Inn Road.  It is located behind and is part of the property of KLAS television.
Hughes' 1952 film The Las Vegas Story is misnamed, as it's simply a story that happens to take place in Las Vegas and, for that matter, could have occurred in Casablanca 10 years earlier.
Lloyd Rollins (Vincent Price) is in deep financial trouble and thinks he can beat the odds in Las Vegas by gambling.  He puts up his wife Linda's (Jane Russell) diamonds for credit. When the diamonds disappear, someone is murdered, and a detective from the Clark County Sheriff Office (Victor Mature) Lt. Dave Andrews heads up the investigation.   Andrews (who happens to be an old flame of Linda's) sees a fly in the ointment.  And that fly of course is Price.
One night Linda (Russell) visits her old boyfriends (Mature) to see if he will help her husband (Price.)  Any similarity between the Las Vegas Story and Casablanca is not an accident — but Russell and Mature are no Bergman and Bogart.
Still, several factors make the film worth viewing, including the images of Las Vegas in 1951; one highlight is a beautiful night shot of a train coming into the Union Pacific depot, where the Plaza is now located. In addition to the sign, you get treated to more views inside and out of the depot, including a view of Fremont Street looking east from the roof of the railroad station.
And there is a helicopter chase at what by 1952 would be Nellis  Air Force Base.
There was plenty of drama behind the scenes of this movie as well. Paul Jarrico, the screenwriter who wrote the initial version of The Las Vegas Story, was fired by Hughes. The billionaire thought the writer leaned too far left, especially since Jarrico refused to testify before the House Committee on un-American Activities. Hughes also yanked Jarrico's name off the credits.
A real highlight is the role of songwriter and piano player Hoagy Carmichael.  He plays the role of Happy, Russel's accompanist in the movie.  One of the 3 songs Carmichael played was "I get along without you very well."  The music and lyrics were composed by Carmichael, based on a poem by Jane Brown Thompson.
Billie Holiday, Nina Simone, Linda Ronstadt, Carly Simon, to most recently, Kristin Chenoweth.  Throw in Tony Bennett and Frank Sinatra, and you have just a few of the dozens of singers who recorded Carmichaels music.
While not Casablanca (but that what movie is.) The Las Vegas Story stands the test–its cast, its historical connection to Las Vegas, as well as the music and the back story involving Hughes and his support of the blacklisting.
Split Second, 1953 – RKO, 85 minutes
This film noir crosses a classic crime situation — escaped convicts taking hostages — with the ultimate element of suspense: an atomic bomb set to go off. Stephen McNally plays Sam Hurley, one of two killers who escapes from the Nevada State Penitentiary in Carson City. The sadistic Hurley and his gut-shot pal head south on U.S. 95, killing and kidnapping along the way. Meanwhile, Larry Fleming (Keith Andes), a reporter for the Las Vegas Globe newspaper, is on assignment at Mercury to cover the detonation of an atomic bomb the next morning. At the last minute, he's reassigned to cover the escape of the two killers. On the road, he meets up with stranded dancer Dottie Vale (Jan Sterling). Next thing you know, the two are kidnapped by the killers headed south on 95, with other hostages already in tow. Hurley takes the hostages to New Hope City, which happens to be dangerously close to Ground Zero. When two more people show up at the ghost town, nine people's lives now hang in the balance as the atomic countdown begins to what the studio promised to be "the most sensational climax ever filmed," thanks to a generous dose of government footage from the "Nevada Proving Grounds."
The Lady Gambles, 1949- Universal-International, 99 minutes
Easily described as the Lost Weekend of noir gambling films, The Lady Gambles gives us a glimpse of what gambling in Las Vegas was like in the late 1940s.  And what the race book business was like when controlled by the mob.
Despite efforts to make this the Lady doth gamble too much story, it is filled with real life episodes in Siegel's life and death, especially his death.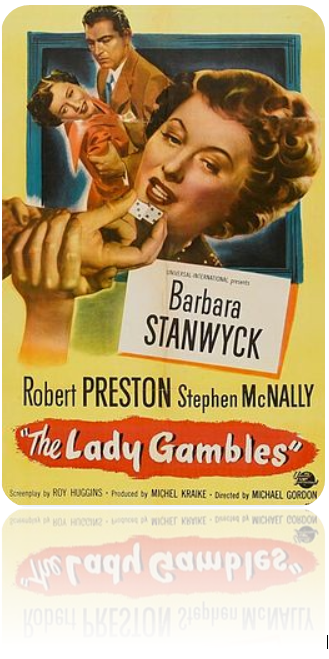 The movie opens in a dark Chicago alley with Barbara Stanwyck being beaten up in an alley for her role in a crooked crap game. And, again, the story rolls out in a series of flashbacks, courtesy of Stanwyck's film husband, Robert Preston, who describes Las Vegas thus: "… a cockeyed oasis. It's a wide-open, 24-hour-a-day carnival that lives off three things — quick marriages, quick divorces, quick money, won and lost. … It's fun for most people, but for some people, it's a trap. It grabs down deep and won't let go."
Stephen McNally plays the Bugsy Siegel Character with the non Bugsy name of Horace Corrigan.   Bugsy, I mean Horace, runs a resort in Las Vegas, the Pelican.  Wanna guess what Stephen McNally's real first name is?  Yep, Horace.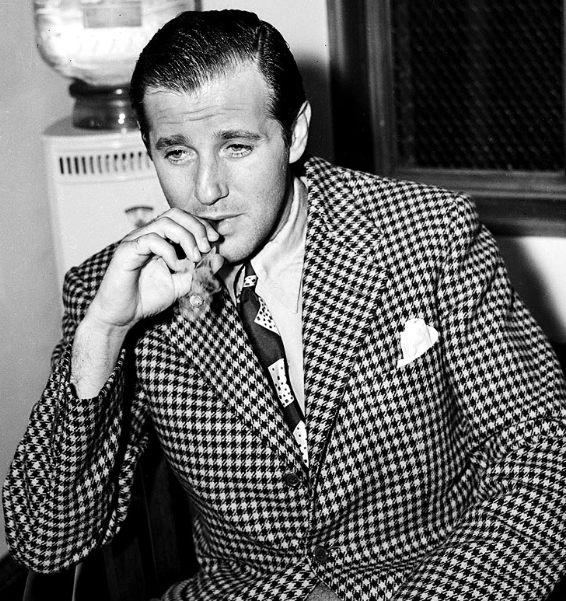 Preston's character gets assigned to write a travel story about Las Vegas and Hoover Dam. He's joined by his wife, who decides she's going to pen an expose on gambling. But she gets in too deep, becoming a gambling addict, giving up everything, including her husband.
Stanwyck's character's hair turns blonde and she winds up in the streets  with a dice cheater named Frenchy.
In the end, the film had everything the Las Vegas Chamber of Commerce didn't want movie audiences to see, including the clubs along Fremont Street looking like something on Skid Row.
The Lady Gambles release would set the stage for the chamber of commerce to use its full power to stop filming of another film on the noir top ten list.
Another note: An actor named Anthony Curtis has a small speaking part as a bellboy at the Hotel Pelican. He would change his name to Tony Curtis and became a major star.
Dark City, 1950 -Paramount, 98 minutes
A rigged poker game sets off a series of murders in Dark City — but it's the strong acting and moody cinematography that set this 1950 film apart. In his starring-role film debut, Charlton Heston plays Danny Haley, a World War II veteran just out of the service. (He's no star-spangled hero, though: While in the Army overseas, he killed a man he found in bed with his new English bride.)
Heston lures a sucker into a rigged poker game with his group of low-life hustlers. The victim loses his own money, as well as that of his company, and kills himself.
The story takes off when the man's psychotic brother, bent on revenge, begins stalking and killing each of the crooked gamblers, and Haley is next on the list.
Ironic but true: Dark City was produced by Hal B. Wallis, who would later produce many Elvis Presley films, including Viva Las Vegas.
New York Times film critic Bosley Crowther praised Heston's acting, declaring him a "new star," but bashed Dark City for its "low and lurid level of crime." Heston himself would remember Dark City as "definitely not an A picture, but a pretty good B."
711 Ocean Drive, 1950 -Columbia, 102 minutes
Like any good film noir, 711 Ocean Drive starts with a flashback. Lt. Pete Wright of the Los Angeles Gangster Squad is on his way to Las Vegas to arrest Mal Granger (Edmond O'Brien) on a murder charge. As the flashback begins, Lt. Wright tells how Granger let the dark side take command of his soul
.
A humble telephone repairman with a passion for horse betting, Mal is tapped by gangster Vince Walters to use his electronic savvy to expand Walters' illicit racing wire.
When Walters is murdered, Granger takes over the operation and soon becomes partners with an East Coast syndicate.  As Granger's illegal business grows, so does his greed, lust and a hunger for power.  All are headed towards a series of double-crossings, swindles and murders.
A climactic foot-chase scene filmed in the tunnels of Boulder Dam makes for a noir-worthy finale. This is no sixty second chase scene.   Just about every dark spot at the dam is featured at the end of this film.
It's also one of the few scenes in this film that was actually shot in Southern Nevada. The Las Vegas Chamber of Commerce, worried about the script's violence and darkness, tried to stop Producer Frank Seltzer from shooting the film here; the chamber even tried to enlist the feds to stop him from shooting at Boulder Dam.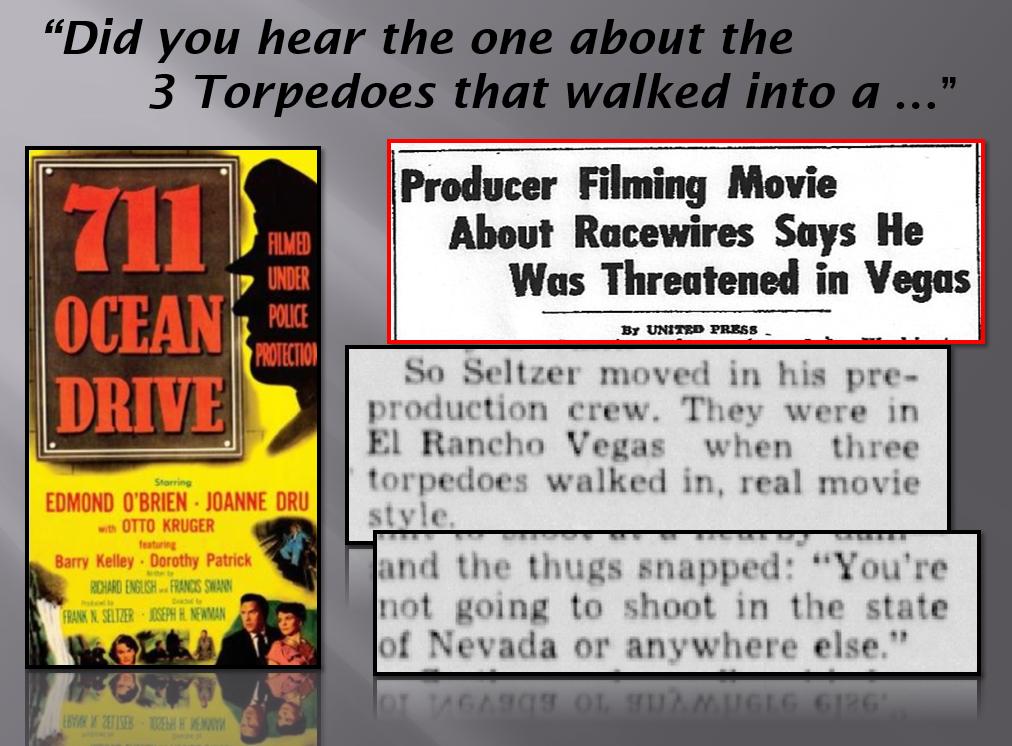 The chamber lost the dam battle, but did kick Seltzer's crew off the Strip and Fremont Street. (Still, the Fremont Street scene made it into the movie). "If we can't shoot in Las Vegas," Seltzer said, "we will build Las Vegas in a Hollywood studio."
The chamber's effort to stop the filming became part of Seltzer's marketing campaign.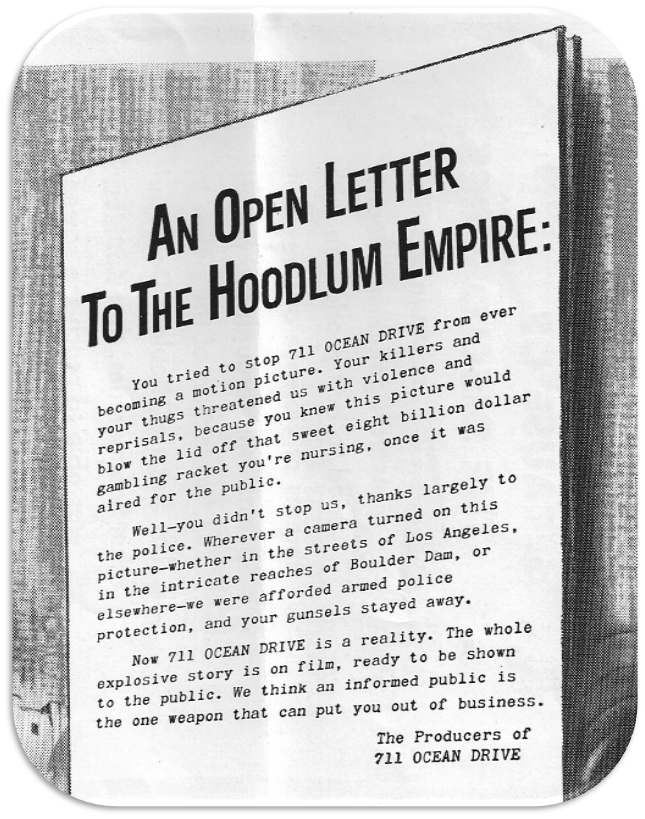 A bit of a spoiler.  With slot machines and a bookie board, Seltzer did create once scene with a casino on a Hollywood sound stage, but unlike Francis Ford Coppla's "One from the Heart," the rest of Las Vegas was simply processed in.
Despite efforts to stop the production, when it premiered on July 1, 1950 it had a successful theatrical run across the country and around the world.  The film had a second and third life with a theatrical re-release in the mid 1950's and then in the 11960's became popular on television.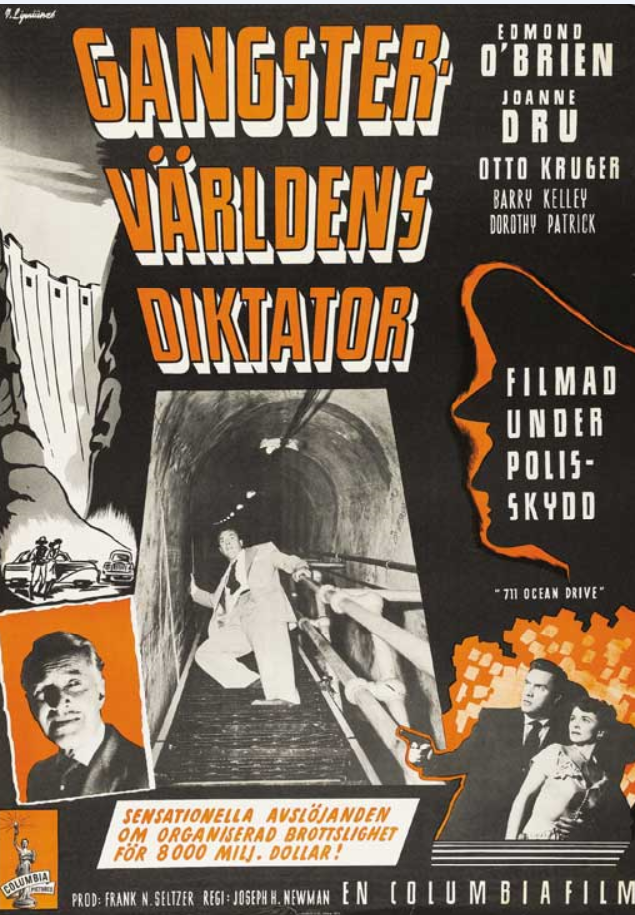 Swedish Poster for Gangster Varldens Diktator
From the first movies being filmed in Las Vegas in 1915, to an image-conscious chamber of commerce barring a Hollywood studio from filming in town to Viva Las Vegas, to the latest Bourne movie Las Vegas continues to support its supporting role with no script strings attached. That openness has brought audiences countless dark, provocative, creative and funny Vegas movies.