In the next three weeks the U.S. Post Office is going to honor a former employee of Bugsy Siegel  with a forever stamp, and the U.S. Mint is going to honor a former Henderson bar owner with a dollar coin.
Using the well-established formula which, with mathematical certainty, which states (3°+6° = N°) Nevada  is only nine degrees away from anything, two more examples surfaced will be available to the public in the next three weeks.
First, a United States forever stamp will go on sale next Tuesday, January 30th honoring Lena Horne.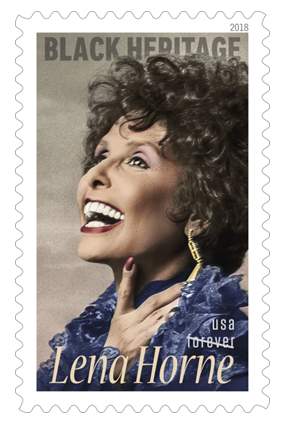 "Lena Horne was a trailblazer" said the post office news release, "for women and (she)  used her fame as an entertainer to become an important civil rights spokesperson."
It would take Las Vegas a couple of decades to hear Horne, beyond her music, but she opened more than a stage door in January of 1947 when she appered at the Flamingo Hotel.
Here is a bit more from the post office news release, "The stamp art features a photograph of Lena Horne taken by Christian Steiner in the 1980s. Kristen Monthei colorized the original black-and-white photo, adding a background reminiscent of Horne's Stormy Weather album, with a few clouds to add texture and subtly make the album reference. "Lena Horne" is written along the bottom of the stamp, with "Black Heritage," the stamp series title, at the top. "USA" and "Forever" appear on the lower right-hand side above Horne's name. Art director Ethel Kessler designed the stamp."[i]
Here's a clip from the 1943 movie "Stormy Weather."
Suggested reading, would start with "Stormy Weather: The Life of Lena Horne" by James Gavin, and "Lena" an autobiography.   Also suggest you find a copy of the movie, "Stormy Weather," the magic is there.
Jim Thorpe "Greatest Athlete of the 20th Century"
Jim Thorpe, a native American, Wa-Tho-Huk, and the "World's Greatest Athlete" will be honored in three weeks on February 15, when the U.S. mint will issue a new one dollar coin paying homage to the sports legend.[ii]
Here's a clip from NFL films on Thorpe.   https://youtu.be/66XjZN55dtA
Jim Thorpe, the Nevada Connection.
Jim Thorpe, for a period of time, also owned a bar in Henderson where there is an elementary school named in his honor.  (Wonder if school will do anything special when new dollar come out?) Henderson, honoring the great Thorpe.
The schools website has a nice biographic sketch on Thorpe..  https://sites.google.com/a/nv.ccsd.net/thorpe/about-jim-thorpe
It includes this odd fact Thorpe was "the only player to ever hit 3 home runs into 3 different states during the same baseball game."  When there is time, will find out how that occurred.
The bio says in part, "Our namesake, Jim Thorpe, exemplified the meaning of someone with a growth mindset. He truly showed grit and perseverance throughout his lifetime. He was born in Oklahoma in 1887 and lived in a one-room cabin with eleven brothers and sisters. His mother was from the Thunder Clan of Sauk and Fox Indian tribe. Jim's Indian name was Wa-Tho-Huk, which means "Bright Path." He was proud of his Native American heritage."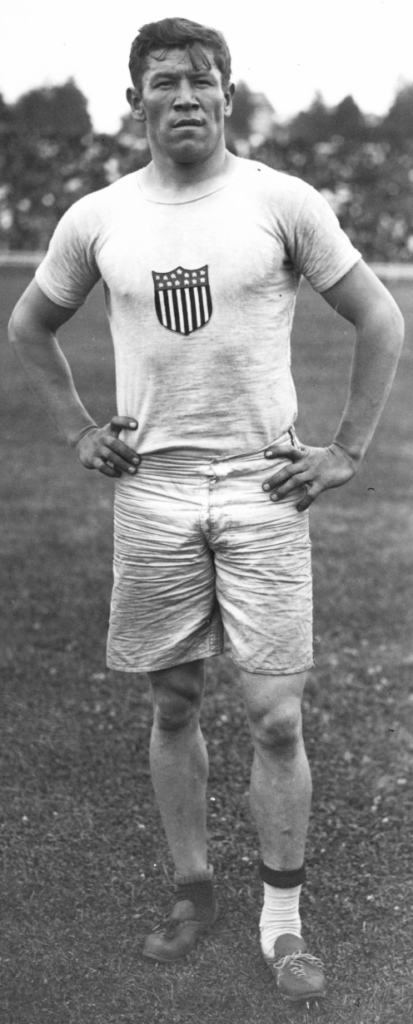 "He won two gold medals for the U.S. in the 1912 Olympics that took place in Sweden. His gold medals were for the decathlon and pentathlon. After the Olympics, he went on to play both professional football and professional baseball. He is one of only a few men to ever achieve that accomplishment.
There are quite a few interesting facts about Jim Thorpe:
First, he was the only player to ever hit 3 home runs into 3 different states during the same baseball game. He also had the ability to kick a football over 100 yards. He could stand at one goal post and kick the ball to the other goal post!  In 1950, he was voted as the greatest athlete of the 20th century by an Associated Press poll. "
The school's Thorpe bio ends with "He was a short time resident of Henderson, Nevada, during the 1950s."[iii]
Noted Nevada historian, Phil Earl wrote about Thorpe.   The article was one of the stories in Nevada Historical Society's "This was Nevada" series.  The society, is  part of the state's museum system. [iv]
Earl wrote in part, a year after Warner Brothers released a film on his life, "Jim Thorpe – All American," starring Burt Lancaster   Thorpe moved to Clark County.
Earl's research revealed "In April 1952, he and Georgia Bente leased the Hut Club in Pittman, opening it as "Jim Thorpe's All American Club" on May 28."
In advance of the opening, Thorpe sent out invitations, on coasters, to the "Grand Opening." A recently discovered coaster now in the CH collection.
Earl spoke to several local residents who recalled "Thorpe as quiet, somewhat embittered about life and reluctant to talk about his past. For all his prominence, he never bragged or put on airs, several recall.  His wife, Pat, and the manager, Bernard Montag, served customers. Pat was the talkative one, this writer has been told, and Montag arranged to serve dinners at the club for a time and put on weekend dances with live music."
Earl's research revealed a meeting in Las Vegas between Thorpe and President Eisenhower.
"Among the players on opposing teams who faced Thorpe at the Carlisle Indian School was Dwight D. Eisenhower, a linebacker and running back for the U.S. Military Academy. In a 1912 game, Eisenhower wrenched his knee tackling him. He later recalled that Thorpe tackled him later in the game. His football career ended the following week when the weakened knee was broken in a game. When Eisenhower visited Las Vegas on June 22, 1952, a week before the convening of the Republican National Convention in Chicago which was to nominate him for President, Thorpe was on hand at McCarran Field. The two shook hands, embraced and briefly recalled their earlier encounter."
Earl said he met Thorpe once, "Thorpe turned down invitations to speak at local civic clubs, but accepted a request to be introduced at Boulder City's Jamboree celebration on July 4, 1952 and throw out the first ball at an American Legion Junior Baseball Game that evening. This writer, a sophomore in high school at the time, was in the stands for this game and managed to talk to him afterwards thinking I might write an article on him for the local newspaper. I asked about his medals, but he only said that he would like to see his records restored for the sake of his children. I recall little else from this conversation, but remember that he almost staggered to the pitcher's mound. I felt fortunate to have been able to talk to the great man, but sorry for what had become of him."
When the bar's manager, Montag died in an automobile accident on the Las Vegas Wash road, Thorpe and his wife told the club in September of 1952.   Less than a year later, Thorpe died of a heart attack in California.
On March 28, 1953, Jim Thorpe died of a heart attack in Lomita, California.  He was 65 years old.
Notes from the U.S. Mint announcement, "WASHINGTON – The United States Mint (Mint) officially announced the reverse (tails) design of the 2018 Native American $1 Coin. The coin's theme pays homage to sports legend Jim Thorpe.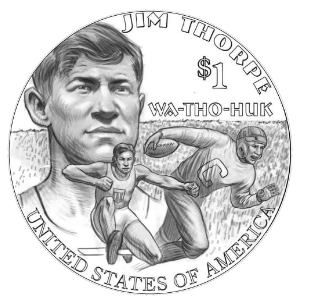 The 2018 reverse design depicts Jim Thorpe, with the foreground elements highlighting his football and Olympic achievements. Inscriptions are "JIM THORPE," "WA-THO-HUK" (Thorpe's Sac and Fox tribe name), "UNITED STATES OF AMERICA," and "$1." United States Mint Sculptor-Engraver Michael Gaudioso created the design. The obverse (heads) design of the Native American $1 Coin continues to feature the central figure "Sacagawea" carrying her infant son, Jean Baptiste. Inscriptions are "LIBERTY" and "IN GOD WE TRUST," while the year, mint mark, and "E PLURIBUS UNUM" are incused on the coin's edge." [v]
From the mint's series of quarter dollars for each state, to stamps Nevada has found its way on to official coin of the realm.
Coming up on CaptainHistory.Com the story of a Nevada stamp that was delayed because of the assassination of a U.S. governor, and a current multi-million dollar suit involving a U.S. stamp, the Las Vegas Strip, and the New York Harbor.
[i] https://about.usps.com/news/national-releases/2017/pr17_084.htm
[ii] https://www.usmint.gov/news/press-releases/united-states-mint-releases-2018-native-american-1-coin-reverse-design
[iii] https://sites.google.com/a/nv.ccsd.net/thorpe/about-jim-thorpe
[iv] Could not find Earl's "This is Nevada" story on Jim Thorpe.  This is a copy from Captain History's files.
[v] https://www.usmint.gov/news/press-releases/united-states-mint-releases-2018-native-american-1-coin-reverse-design