The first resort on what would become the Las Vegas Strip had a theme, the Hotel El Rancho Vegas.  A western theme, which was followed by another western theme, the Last Frontier, and then it was onto the desert, from the Sahara, to the Dunes, Sands, to the Mirage.
Eleven years ago this month the New York, New York opened with its theme, and with it came the Statue of Liberty.  The Las Vegas version, according to the attorney representing the artist is "a more delicate, modern, feminine and fresh-faced statue."
Hard growing old, Lady Liberty in New York, was dedicated October 28, 1886.  That would make her 131 years old.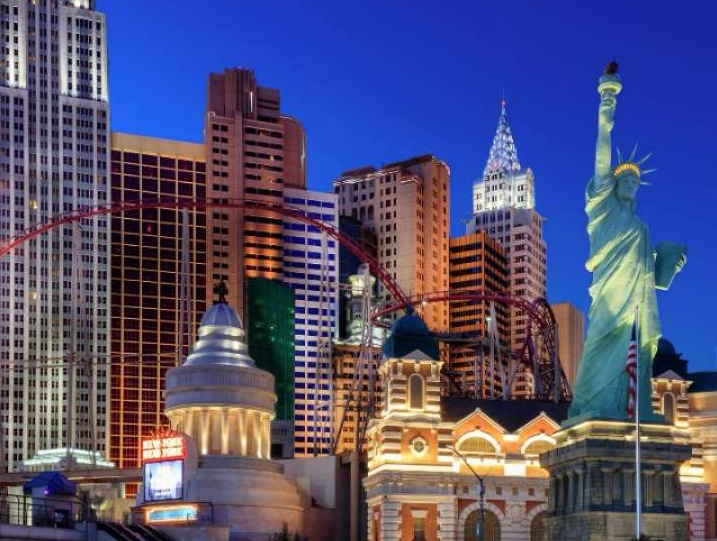 An image from the New York, New York web site
https://www.newyorknewyork.com/en/hotel.html
We need to go back a few years when the U.S. Post Office decided to issue a state featuring the Statue of Liberty.
A stamp design is created based on the Statue of liberty in the New York harbor.  And stamps are printed.  Whoops.
Turns out the statue of liberty on the stamp was not based on the one in the New York harbor, it was based on the one on the Las Vegas strip.
ABC News pointed out one of the differences.
Here's a link to ABC's story. http://abcnews.go.com/WNT/video/statue-liberty-stamp-mistake-wrong-las-vegas-casino-new-york-13387491
As the TV networks, and national newspapers pointed out, the Nevada sculptor, a bit upset, got a hold of a Las Vegas law firm, Pisanelli Bice PLLC and is suing the post office.
A few weeks ago his attorneys told the court their client is owed between ten and 11 million dollars for using the artists copyrighted image without his permission.
As part of the filing, the artist's work is a "Re-imagined lady Liberty" and is "the artistic creation of one person, Robert S. Davidson."
The matter is before Judge Eric G. Bruggink, a judge with the U.S. Court of Federal Claims in Washington D.C.
Both sides presented their arguments to the judge during a multi-day hearing last year.
Now, the artist's attorneys,in the new filing, told the judge their client is owned millions based on the number of stamps printed and other factors.
It is likely the judge will ask both sides to appear before him once more before he makes a decision.  It is likely that decision will be appealed.
No matter how the judge rules, we can visit the new "more delicate, modern feminine and fresh faced" statue on the Las Vegas strip,
Or head east and visit the less delicate, old-fashioned, less feminine, tired-looking 131 year old statue in the New York Harbor. Or take a look at one of these live web cams.
https://www.nps.gov/stli/learn/photosmultimedia/webcams.htm
We will keep an old eye out for the Judge's ruling.